Royal Observer Corps
No. 6 Group Museum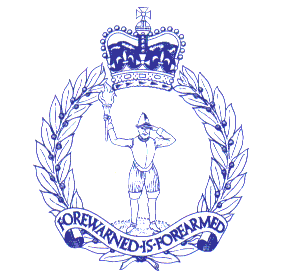 Upon the stand-down of the Royal Observer Corps in September 1991, a request was made to No 6 Group Headquarters at Norwich for at least one of each item of equipment, insignia, forms and memorabilia, to be saved for future display. The staff at HQ managed to put aside a great number of items for the proposed ROC museum at Flixton, where at least twenty museum members had served in the corps.
Fund Raising started with jumble sales, raffles, personal donations etc., to raise enough money for a building. When a children's playroom used by the American church at RAF Woodbridge became available, transport was arranged and it arrived at Flixton in 1992. The task of obtaining planning permission began. Once this was completed, concrete foundations were laid, and the building was winched into place, repaired and repainted. Most of 1993 was taken up with moving the exhibits in and setting up the displays within the building.
The official opening on 26th September 1993 was performed by Mr Harry J Teague MBE, a former Group Commandant of No 6 Group (Norwich) ROC.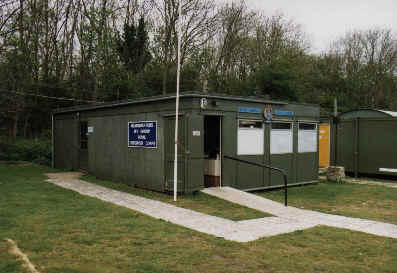 The Royal Observer Corps Museum
The museum traces the history of the Corps, from the beacon lighters of Elizabethan times, to LADA, (The London Air Defence Area) of World War One, to its official inauguration in 1925, through to its standing down in 1991. Initially the museum was only open Sundays and Bank Holidays, with ex-ROC members manning the museum, providing visitors with valuable answers to any questions raised about the role, lifestyle and operation of the ROC.
On entry to the museum is a welcome sign and a 'key date' history of the Corps. There are photographic displays of the 'Bungay Post and Crew', The 'Southwold Post and Crew', 'ROC at Home Days' and 'Seaborne Observers.'
There are also 22 uniforms on display ranging from Observer to Observer Captain, with displays of rank, insignia, badges and medals. A female observer wearing a wartime battle dress uniform stands in a sandbag enclosure with post chart table on a tripod, with post aircraft plotting instruments facing towards an incoming raid. She is wearing a wartime head and breast set telephone. There are displays of aircraft recognition cards, magazines, models and epidiascopes. There is a small scale model of the wartime RAF Uxbridge operations room, where wartime aircraft plots were fed to.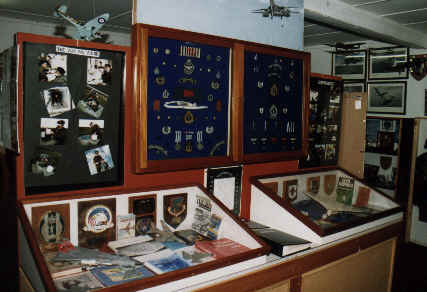 One of the display cases in room one
For the post-war Terrier + Rats and Cold War period there are displays of post aircraft plotting chart tables, and a small scale Norwich Ops room main table showing aircraft plots, with aircraft recognition slides and projections.
Going to the nuclear role there are many post exhibits, including: Maroons, Hand-Operated sirens, emergency rations, first aid kits, Dosimeter, Fixed Survey Meter, Radial Survey meter, Generators and ground zero indicator. There are also displays in the 2nd room which is a replica underground post manned by four female observers. Headquarters equipment for the Cold War Period includes a Triangulation table, for working out the ground zero of nuclear bursts in the group's area, it's power and its height within the atmosphere, from information fed in by the post; from this information the UKWMO (UK Warning and Monitoring Organisation) warning team could, with wind direction and speed, predict the future of fallout for public warning notices and the military. There are training displays A and B, which are vertical Perspex displays on which nuclear bursts and fallout plumes were plotted. There are examples of Post Display Boards on which communications, First Fallouts and radiation readings were plotted, feeding information to the warning team. There is a display of rules, templates, protractors and calculators used by the Triangulation and Warning Teams.
Members of the ROC wore RAF Pattern uniforms, from early war to 1991. Ranks were a mixture of Naval and Air Force (Leading Observer-Leading Seaman, Chief Observer-Chief Petty Officer, Observer Officer-Pilot Officer.) ROC members were also issued with a (UKWMO) United Kingdom Warning and Monitoring Organization ID card; in times of emergency this could insure the holder a police escort to their place of duty, in this case, their designated ROC post.
Over the years the museums flat roof caused a few problems, this was finally cured by a new pitched roof. The old combi-TV showing relevant videos has been replaced by a flat screen player that shows two five minute films about the ROC. The museum has also gone through an overhaul in terms of lighting and security, with some of the exhibits now utilising new LED lighting to highlight them. Eight new display cases were added in the winter of 2011/12 as part of the on-going process to re-energise and re-invent the displays of the ROC museum.
Memorabilia on display includes the No6 Group ROC Ensign and Headquarters Board, three framed stich word badges, five wall shields, anniversary mugs, crew shields, crew of the year trophies, plotter of the year trophies, crew three bowls trophy, 6/40 post shield and trophy and the Ray Allard Aircraft Recognition Trophy.
Every September from 1992, the museum arranges an "At Home" or ROC Day for ex members and visitors. Entertainment is held in the hangar with other stalls and raffle. Weather and availability permitting there is a flypast by the Battle of Britain Memorial Flight, a reminder of King George VI's awarding of the title Royal to the Observer Corps in 1941 for services rendered during the Battle of Britain, when friend and foe were plotted.
'The Royal Observer Corps Club'
The Observer Corps Club was formed from the Hearkers Club in January 1941, re-named the Royal Observer Corps Club in April 1941. The club took over aircraft recognition training; observers tried to attend one club meeting a month which included graded recognition tests and lectures. The club produced recognition sheets and cards for the epidiascope. In September 1941 the club produced its own magazine, the ROC Club Journal. If there were not any photographs of any aircraft then the model makers produced them so photographs could be taken of them for the journal. By late 1942 there were 191 branches of the club. Observers/Members were also lecturing/instructing the Army, Air Force, Navy, Home Guard, Air Training Corps, and Spotters Clubs in order to pass on their knowledge. Recognition tests were of three grades; Basic, Intermediate and Master. For the latter a badge showing the plain view of a Spitfire was awarded and worn on the arm. At the end of 1942 it was announced that the ROC club had to be disbanded and the journal to cease production, and recognition cards were to be stopped. The Air Ministry did not like the idea that recognition training to such a high standard was carried out by a civilian club! And in future would have to be done by the ROC itself and members would be issued with a new publication called Aircraft Recognition- the Inter-Services Journal. (In many ways just a copy of the ROC Journal.) The final combined copy for December 1942 and January 1943 had 72 pages and instead of the normal blue cover was bright blood red. All the ROC club branches were closed down.
For further information, contact Huby Fairhead at nsam.flixton@tesco.net